MOTOR MINI DIESEL
ABBA MOTORS
ABBA ALBERTTI

MINI-DIESEL INDUSTRIAL REFRIGERADO POR AIRE - MADE IN ASIA/SPAIN
Ingeniería avanzada, precios ultracompetitivos
FROM 500 US$
MUY LIGERO Y COMPACTO
ECONOMICO EN ADQUISICION, CONSUMO Y MANTENIMIENTO

NUESTRA FORMULA:
ALTA TECNOLOGIA + GRAN VOLUMEN DE PRODUCCION + FABRICACION MIXTA ASIA/ESPAÑA
MOTOR DE CALIDAD, ECONÓMICO, DE MUY POCO CONSUMO, ALTA FIABILIDAD,
FABRICADO EN MILES DE UNIDADES Y COMERCIALIZADO BAJO DECENAS DE MARCAS Y FABRICANTES POR TODO EL MUNDO, INCLUIDO USA
IDONEO PARA APLICACIONES INDUSTRIALES, AGRICOLAS, AUTOMOCION, ETC
DEPARTAMENTO DE INGENIERIA Y DISEÑO INDUSTRIAL PROPIOS A SU DISPOSICION
VERSIONES Y PRECIOS:
ABBA MOTORS
MOTOR DIESEL ABBA ALBERTTI

VERSION

PRECIO

L170: 4HP
600 EUROS
L178F: 6 HP
650 EUROS
L186F: 10 HP
700 EUROS

PRECIOS DESDE 1 UNIDAD
10% DESCUENTO PARA PEDIDOS CONTAINER 20´ COMPLETO (176/312 UNIDADES)
10% DISCOUNT FOR FULL CONTAINER ORDERS

(IMPUESTOS APARTE SI APLICABLES)

FOB MADRID- SPAIN

ENVIOS A CUALQUIER PARTE DEL MUNDO
(POR UNIDADES O CONTENEDORES DE 20´Y 40´´

WORLWIDE DELIVERIES
BY UNIT OR 20´/40´CONTAINER

ABBA MOTORS
ABBA TRADE INTERNATIONAL


http://abbatrade.tripod.com
PARA:
NUEVO PRODUCTOS Y/O VEHICULOS
MEJORA DE COSTES CON UN MOTOR DIESEL MAS COMPETITIVO
MEJORA DE PRODUCTO SUSTITUYENDO EL MOTOR GASOLINA POR UN MINI-DIESEL
COMPARACION MOTOR GASOLINA VERSUS MINI-DIESEL
MENOR CONSUMO Y DIESEL
MAXIMA ECONOMIA DE FUNCIONAMIENTO
FIABILIDAD DE FUNCIONAMIENTO MUY SUPERIOR INCLUSO EN AMBIENTES HOSTILES (HUMEDAD, ETC)
FIABILIDAD EN MANTENIMIENTO
MUCHO MAYOR PAR MOTOR (EMPUJE) A MISMA POTENCIA: PUEDE SUSTITUIR COMPETITIVAMENTE MOTORES DE GASOLINA DE MAYOR POTENCIA
MUCHO MAYOR DURACION
NOTA:
EL LIGEROO INCREMENTO DE PESO EN RELACION A UN MOTOR EQUIVALENTE DE GASOLINA
(VER FICHA TECNICA) SE COMPENSA PARCIALMENTE CON EL AHORRO DE PESO
DEL COMBUSTIBLE NECESARIO PARA UNA DETERMINADA AUTONOMIA
APLICACIONES EJEMPLO :
MOTOBOMBAS DIESEL
MOTOCULTORES DIESEL
DUMPERS DIESEL
GENERADORES DIESEL
MOTORES MARINOS (INTERIORES O FUERABORDAS) DIESEL
MOTORES AGRICOLAS DIESEL
MICRO-CARS DIESEL
KARTS DIESEL
OFF ROAD KARTS (KARTS TT) DIESEL
QUADS DIESEL
ATVS DIESEL
CORTACESPEDES DIESEL
LAVADORAS AGUA/CHORRO DE ARENA A PRESION DIESEL
MOTOS DE NIEVE DIESEL
MOTOS-SCOOTERS DIESEL
MOTOS ACUATICAS DIESEL
ULTRALIGEROS BIMOTOR DIESEL (?)
VEHICULOS DE LIMPIEZA/MANTENIMIENTO DE CALLES DIESEL
MOTOCARROS DIESEL
MINI QUITA NIEVES DIESEL
MINI TRACTORES DIESEL
ETC ... DIESEL
...
...
Y
SU IDEA Y/O APLICACION ESPECIFICA
¿NECESITA MAS POTENCIA?
ESTUDIE UNA OPCION BIMOTOR
ABBA ALBERTTI
MINI DIESEL

Characteristics:
1. Direct injection combustion system: New type fuel injection system and combustion system ensure maximum power from every drop of diesel and miniaturize exhaust of waste gas.
2. Efficient air cleaner system: High-performance air-filtering structure device suitable for various environment, ideal for long-term hard work on any rough dusty worksite.
3. Low noise and stable: Its fan cover made by low noise composite steel and specially designed large exhaust muffler combine to form a silent machine. ABBA's unique balancer shaft eliminates the vibration .
4. Compact in structure and small in size: With tough but light-weight alloy used for main engine parts, extra tough crankshaft and overall simplified structure, the ABBA is a compact package power.
5. Multi-choice PTO shafts: With a choice of 4 kinds of PTO coupling available, wherever compact and economical drive is needed, ABBA fits the bill, giving the unbeatable dependability only diesel can offer.
6. Recoil manual starter: A short and smooth pull of the toggle kicks off the engine, as simple as its gasoline cousin. It is made easy by a special autoreturn decompressor and ABBA's own efficient combustion system. Electric starting is also a useful option.
Specifications:

MODEL

LA170F

LA178F

LA186F

Type

Single-cylinder, Vertical, 4-stroke air-cooled diesel engine

Combustion System

Direct Injection

Bore X Stroke (mm)

70 X 55

78 X 62

86 X 70

Displacement (cc)

211

296

406

Engine Speed (rpm)

3000

3600

3000

3600

3000

3600

Maximum output (hp)

3.8

4.2

5.4

6.0

8.8

10.0

Continuous output (hp)

3.4

3.8

5.0

5.5

7.7

9.0

Power Take Off

Crankshaft or Camshaft (Camshaft PTO rpm is 1/2)

Starting System

Recoil or Recoil/Electric

Fuel Tank Capacity (L)

2.5

3.5

5.5

Lube Oil Capacity (L)

0.75

1.1

1.65

Dimensions LxWxH (mm)

332 x 392 x 416

383 x 421 x 450

417 x 470 x 494

Dry Weight (Recoil) (kg)

27

33

48

Dry Weight (Electric) (kg)

32

38

53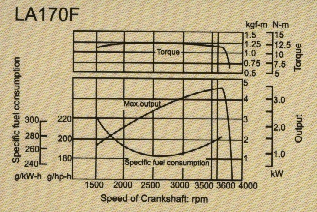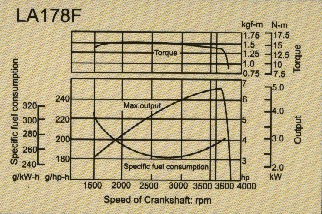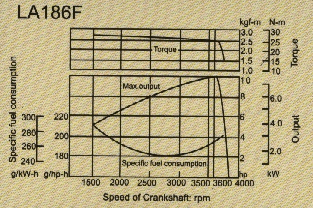 Performance:
Performance measured after 30 hours running-in, with air clearer and exhaust silencer.
Atomospheric conditions: ISO 3046/1
Barometric pressure: 760mmHg [750mmHg]
Intake air temperature: 20 centigrade [27 centigrade]
Relative humidity: 60%[70%]
Multi-choice PTO shafts
Packing List: (C(Please click for details)
Overall dimensions and installation:
UN DETALLE DE LA FABRICA EN ASIA :
(Sección adaptaciones para clientes OEM)
Ingeniería avanzada, precios ultracompetitivos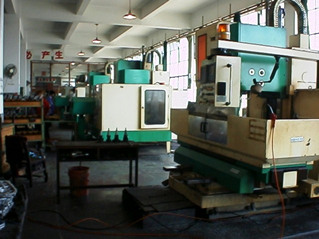 ---